Memory Stations spark memories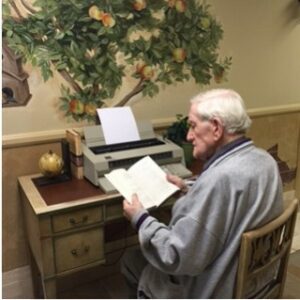 Memory Stations are reminders of the past, helping residents rediscover moments, emotions and connections forgotten along the way. These self-directed activity areas allow residents to interact with cheerful, themed "stations" on Memory Lane. Residents who worked in offices find comfort in sitting at an office desk with a typewriter and other tools of their trade. For women who were housewives and mothers, stations with a vanity and make-up, or dolls and familiar photos create a cozy retreat within the community. Each space is designed with care and attention to detail to provide residents with a stimulating and rewarding environment.
The goal of life skill stations is to create small vignettes that help dementia residents spark old memories and create activities that encourage interest, movement, and interaction.