See what our clients and their families have to say about us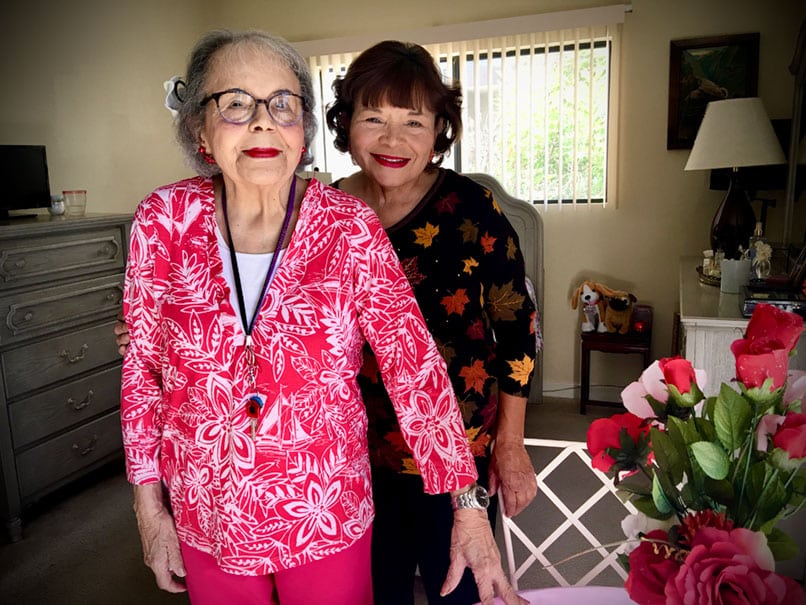 "My mother, Connie Piñeira, found Arcadia Gardens when she thought it was time to go from living on her own to having assistance. She's been here almost 6 years. She looked at different places and she liked Arcadia Gardens because of the warm atmosphere. She really likes her room which has a living room and a little bedroom. She loves the meals and the music, especially when there is singing involved! I'm glad she chose Arcadia Gardens. It's family owned and that makes all the difference. The owners, Julie and David, are warm and caring and all the employees and staff are welcoming. I have another family member at an Assisted Living Facility that is corporate owned and there is just no comparison. It is so nice to come her. If something happens or my mom has any questions, they call me. They are attentive to all her needs and they give me peace of mind."
– Dr. Sylvia Piñeira Lauder
Zeyad Bob Kotab has lived at Arcadia Gardens for over 2 years. He's been to 9 other facilities and says he is very happy here as it feels more like living at home. "I like this place, it's like Florida! Just look at all the beautiful plants, trees and birds," he says. "Everything is so organized. They give you a variety of food choices. I'm very happy with Julie & David (the owners) and their team. They are straight forward and run a great place here." He enjoys the pool area the most, "I love the water and the pool; it gives me peace of mind and serenity."
Thank you Mr. Kotab for your kind words. We're glad you are happy here!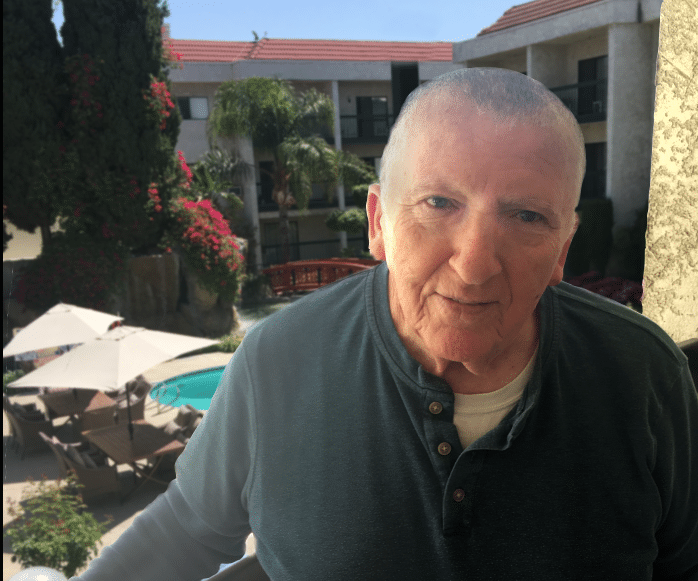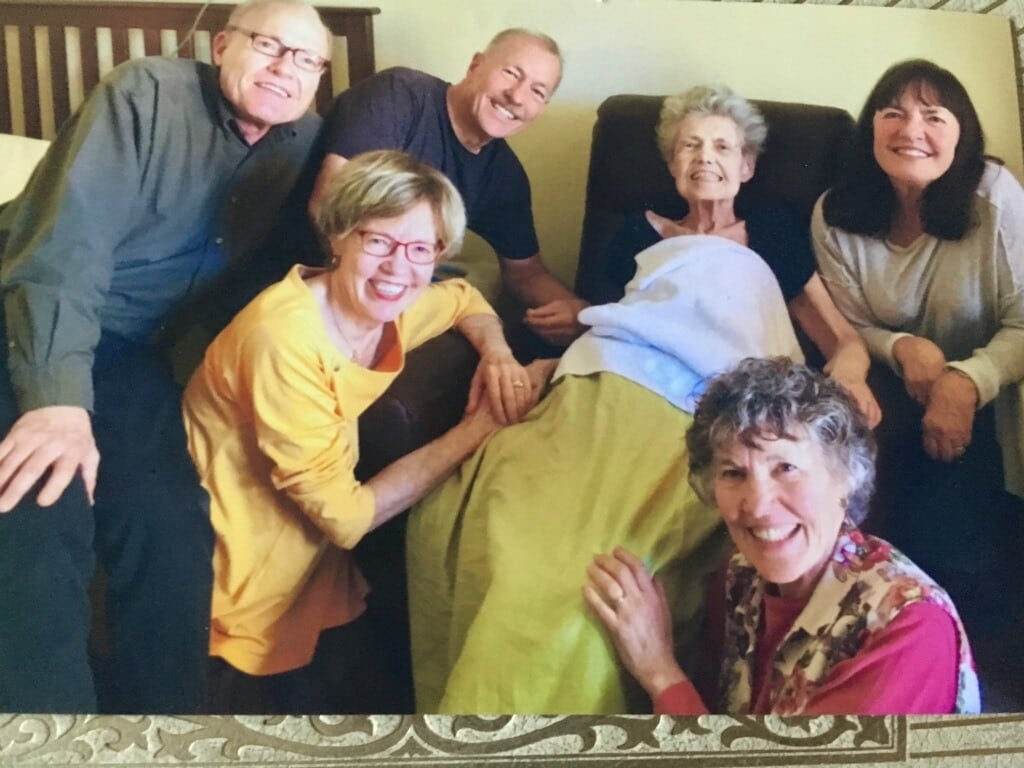 "Our family would like to thank Arcadia Gardens for all the excellent care and kindness given to our mother for 7 1/2 years. There are so many ways Arcadia Gardens improves the quality of life for its residents. The surrounding grounds are lovely, always freshly planted with seasonal flowers. My mother's room overlooked the pool and waterfalls, with a view of the Italian cypresses and mountains in the distance. My mother often commented on its loveliness, saying "I got the best room!" I have looked – they all are the best rooms!
The dining room is tastefully decorated for the seasons. The food choices are very good. My mother enjoyed chatting with her friends at her table.
The staff has been amazing. They go way beyond their job description in caring for the residents. They poured their hearts into our mother's care. Arcadia Gardens has been an answer to our prayers."

– Kindra G.
" Thinking back to the first time I stepped into the Arcadia Garden Retirement Hotel with my mother 15 year ago, I recall experiencing an unforgettable warm welcome. We met with the staff, taken on a beautiful garden tour, chatted with the residents and enjoyed a delicious lunch. That same atmosphere remains to this very day.
The Arcadia Garden has maintained its standard of excellence, growing warmer and visibly; there are more activities for the residents to partake in. The premises are well maintained, clean and there is a friendly team at the front desk. The dining room server, housekeeping and medical crews work hard to maintain its current high standard level of excellence.
It is with these underpinning qualities that allows my mother to remain in LA with her friends as my job requires me to live in New York. It's not easy for me to visit Arcadia Garden as often as I'd like. However, every visit only re-assures my confidence and trust in the Hotel. I feel very comfortable leaving the care of my mother to the Hotel. I know my mother's daily activities. I speak to her and the front desk often when I am physically not present at the Hotel. The staff is always very polite, efficient and willing to help especially when I can't reach my mother. The staff goes out of their way to find her and check that she is all right. This gives me peace of mind. I often tell Julie and David that I will plan my stay with them when I retire."

– Shirley F.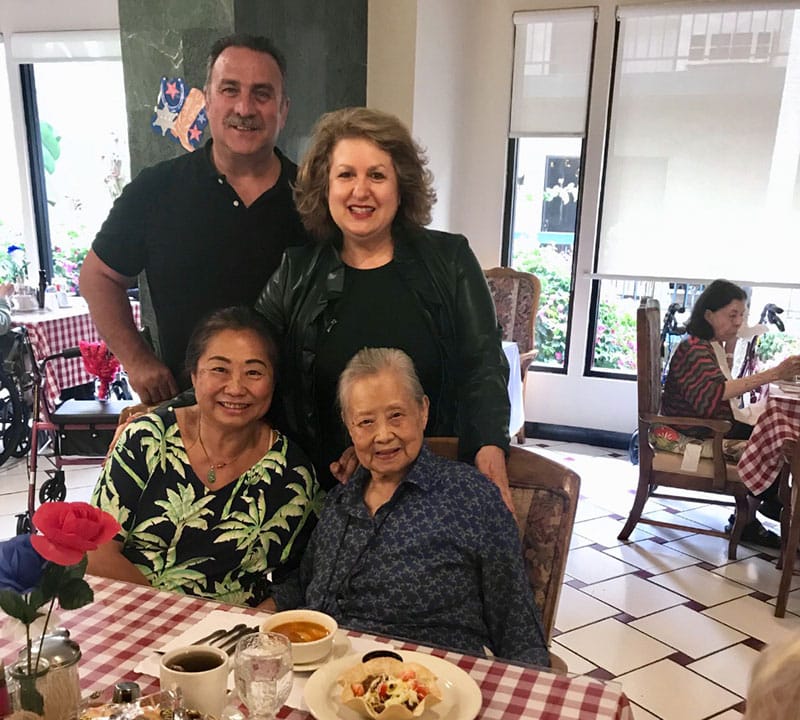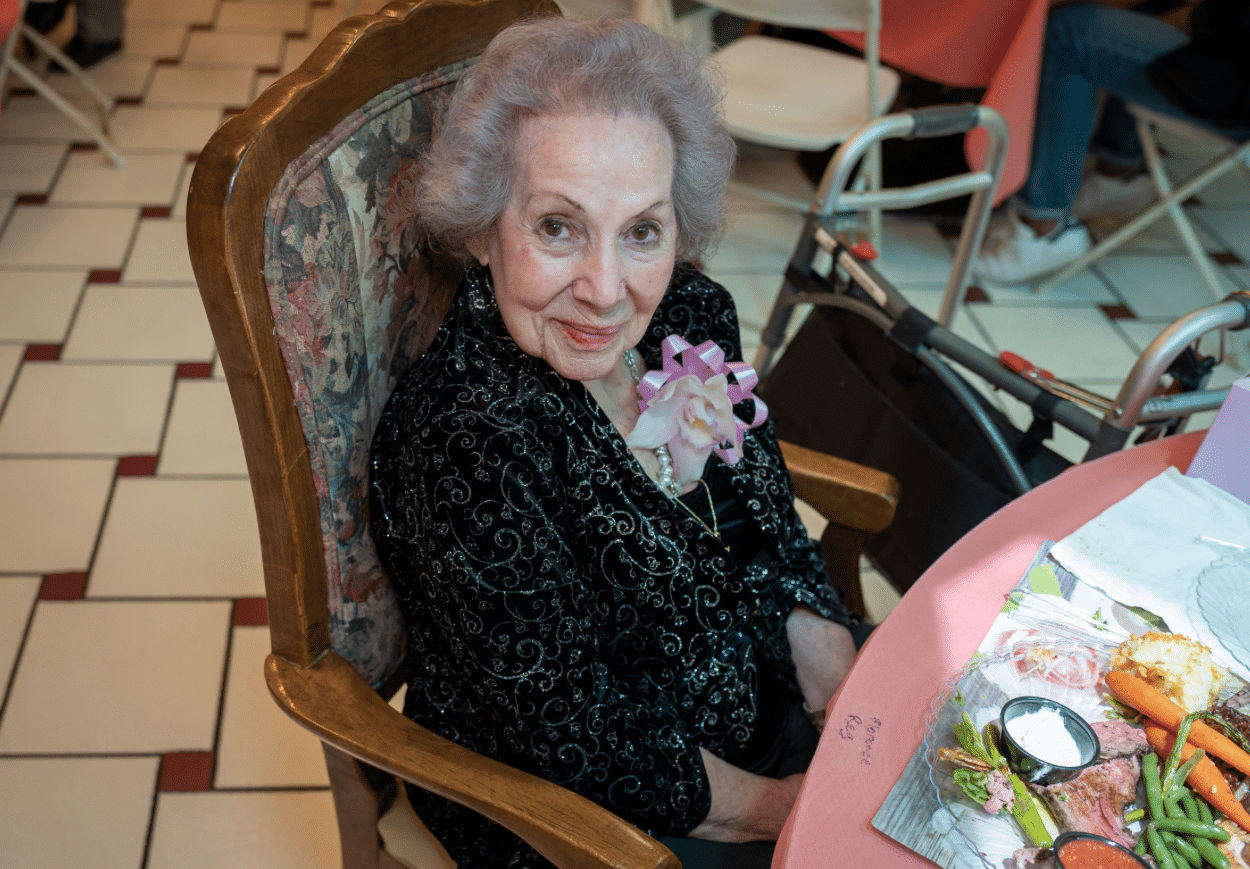 "I have no regrets about moving my Mom into Arcadia Gardens. The staff is so accommodating and the owners Julie and David are incredible. They have been a godsend and I know my mom is in very good hands. I'm so comfortable with her care. She is in a place where she has people and life around her. She doesn't have to wait for the weekend to get company. She's in a place where she has friends, people serving her all the time, classical music at dinner and so much more than if she were alone in her home. I can't say enough about Arcadia Gardens. It's the best place my mom could be."

– Anthony Cascone
"My name is Vicki Knight, I own Century Rooter- Service & Plumbing, a plumbing company here in the Arcadia area. I'm here to talk to you about Arcadia Gardens and how wonderful they are and how fabulous they have been for me and my family. My mom had a stroke a few years ago and she lived with us for a long time and she wanted to live with us until she passed.
When she had the stroke, I couldn't care for her and run a business and give her the quality she needs so I made the choice to move her. I searched quite a few places and came to Arcadia Gardens because I heard good things about them.
They have just been fabulous for my mom. My Mom thinks she lives in a senior community in her own apartment and has friends here.
It was the hardest decision I've ever made because she wanted to stay with us. But now, she doesn't remember living with us and she is very happy.
Arcadia Gardens has given my family peace of mind to continue what we do to support our family and our employees. Otherwise, everything would have had to change.
If you have to make that choice, don't hesitate. Check out Arcadia Gardens, they can do the same for you. Give you peace of mind and care for your family."

– Vicki Knight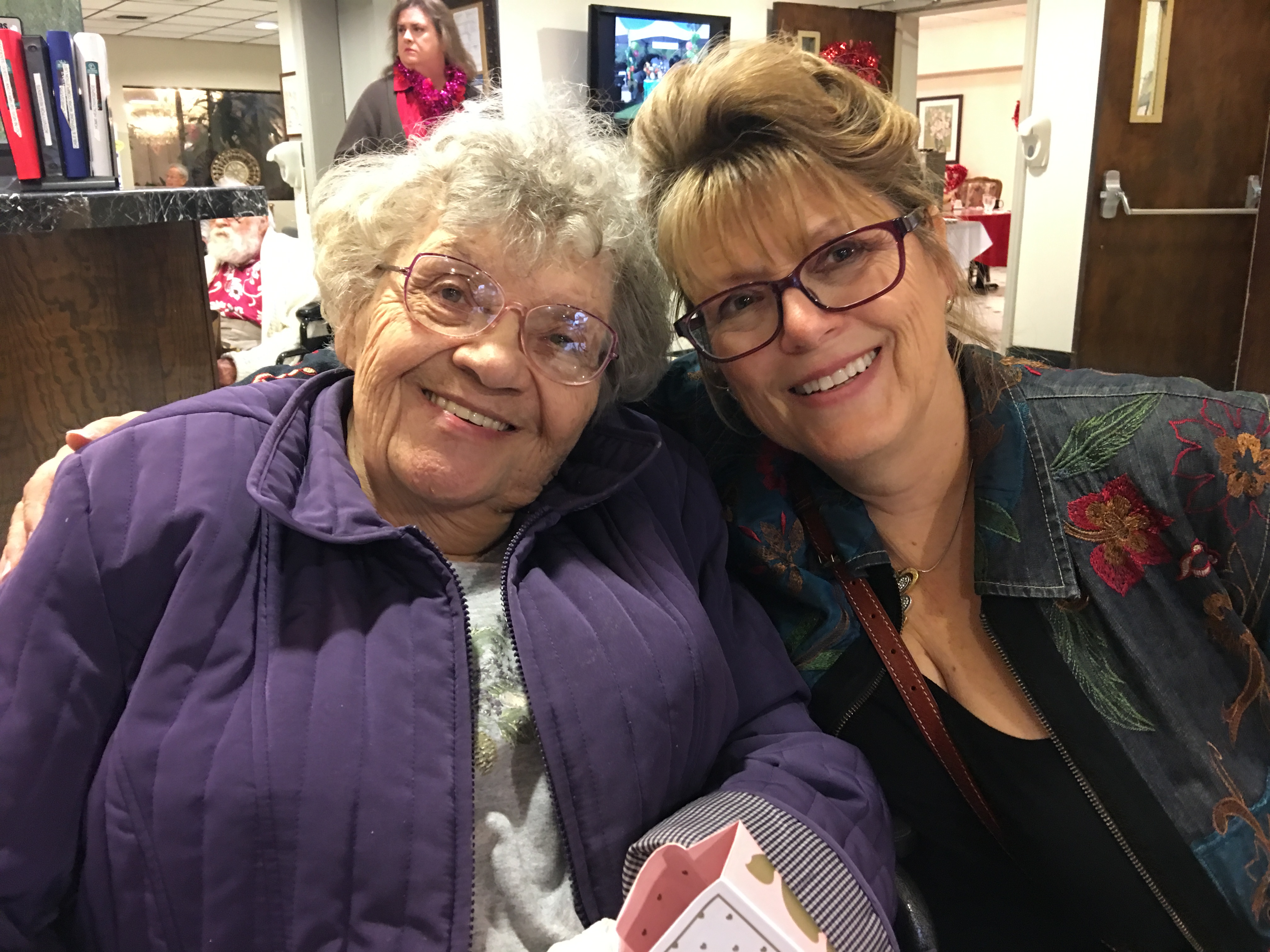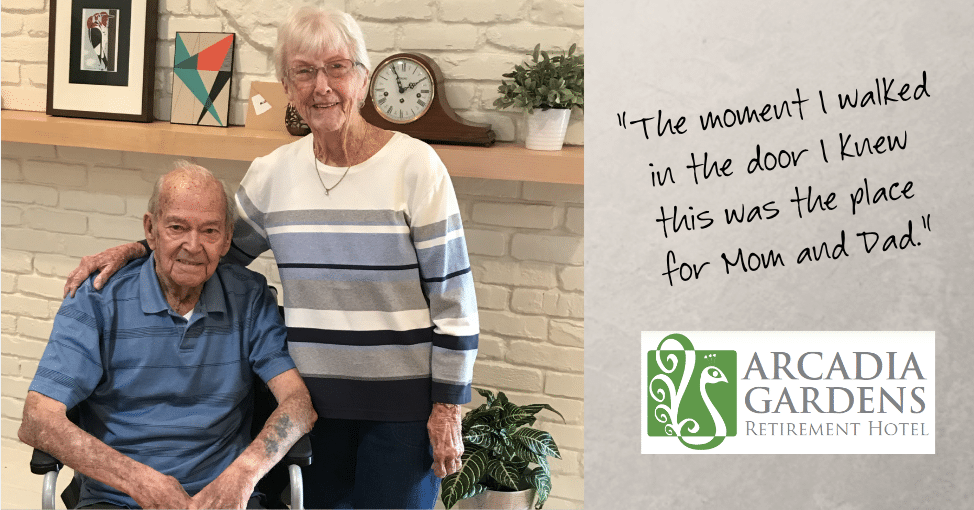 My parents moved in with me and my family in 2013. We felt it was safer for them to live with us due to aging. The past year their daily needs starting getting more difficult for us to take care of on a daily basis. We knew we had to consider moving them to a place where they could receive care 24/7.
I spent endless hours searching for the right place. I was looking for a place that had great caregivers, was clean, and fit into my parents' budget. Trying to find all of their needs was impossible. After several months of searching, Kim Millwee with 'Our Golden Pathways' told me to tour Arcadia Gardens and talk to Julie. I was reluctant to visit since it was a bit further from my home than I wanted. Kim told me it would be worth my time so I scheduled a tour; Julie, the owner, met me on a Sunday morning. The moment I walked in the door I knew this was the place for Mom and Dad. Julie is amazing; she has a big heart. It felt like I was talking to family. She made me feel at ease and comfortable with this difficult decision. During the tour, I noticed how happy the residents looked. One lady told me she had lived at Arcadia Gardens for 19 years! That says a lot. Arcadia Gardens is beautiful. Clean. I observed the caregivers and they all seemed so caring and patient. The staff was very friendly and talked to me about my concerns. My parents took a tour a couple of days later. They thought it would be a nice place to live and they moved to Arcadia Gardens in November 2018. After one week of living at Arcadia Gardens, Julie and the staff noticed my Mom needed more hands-on care. She suggested moving them to the memory care unit. I knew from talking to other people and other facilities that this was a whole different situation. Most places would have moved my Mom to memory care and my Dad would stay in the assisted living section. This was a huge concern. They have been married for 77 years and could not be separated. Another concern … budget. Memory care is a whole different level of care and with that comes a price. I knew I had to stay within their budget. I got nervous listening to what needed to be done. I knew I was unable to move them back to my home due to their care. Julie worked it out with us and they were able to stay! Again, Julie is amazing! My parents are getting the best care in Memory Lane. Katie and the other caregivers are wonderful. They go above and beyond to take care of them. They don't even mind when we call and ask how my parents are doing. They keep us informed. They are always clean and the room is cleaned daily. This was a very difficult decision for our family even though we knew they needed more hands-on care. We are all at peace knowing they are in good hands at Arcadia Gardens. Julie and her staff are a blessing! "

– Nancy (Daughter of Charles & Betty Potts)
A grateful son's testimonial about his experience with Arcadia Gardens…
"Walking through the front doors, I always feel good. The lighting is warm, and the residents are happy. The staff is friendly and helpful, and they all know who my mom and dad are.
My mom and dad have been living at Arcadia Gardens since my mom fell and broke her hip in late July. Even though my mom talks about going home on just about a daily basis, both of them agree that they're treated very well and the food is good.
My stress level has gone from up to my eyeballs to pretty much not worrying much at all anymore. I don't expect they'll ever stop asking about going home or my dad getting his car back, but at least they're not pushing too hard. Everyone seems to adore them here, and they are now only ten minutes from my house. "

– Louis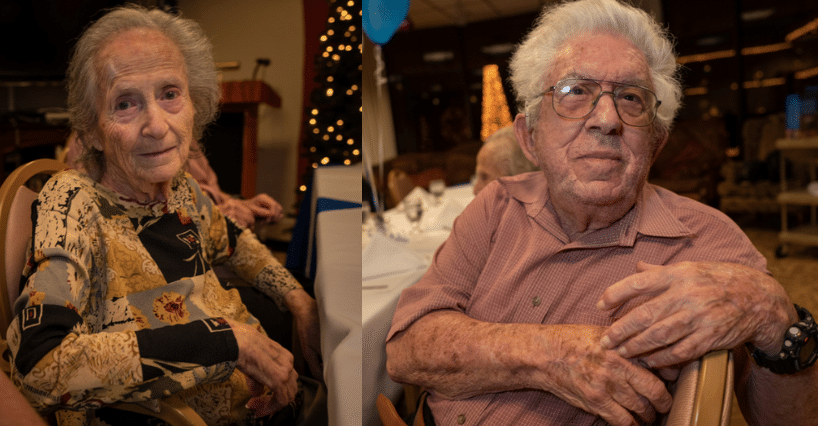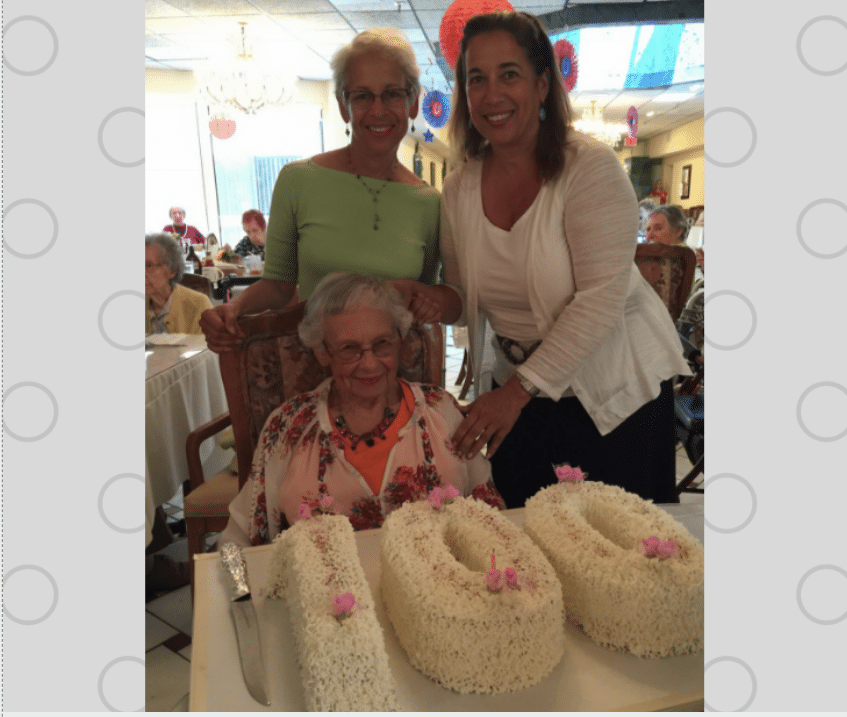 "I first moved my aunt to Arcadia Gardens over 10 years ago. She arrived with some serious health problems that kept her from getting proper nutrition and medication in her home where she lived alone. Her health actually improved once I moved her to Arcadia Gardens as she was getting 3 nutritionally balanced meals a day and she had nurses supervising and administering her medications and scheduling regular doctors' appointments. Without this move I know she would not have lived as long as she did and more importantly would not have had such an enriched life in her final years. I was so pleased with what I saw her doing here, that I moved my mother in a few years later. My sisters and I joke that Mom acts as if she is in camp at Arcadia Gardens. Her schedule is so full with weekly activities she looks forward to like art classes, movie night, sing-a-longs and Sunday chapel that it is sometimes difficult for her to squeeze in time for us to visit. We of course love seeing her enjoying her Arcadia Garden community so. They keep a very upbeat environment and the staff has been wonderful. I can tell you that Arcadia Gardens has provided our family with peace of mind knowing that our mother is safe, happy and well looked after. I know several friends who have moved their loved ones into much fancier more expensive facilities in the area. But in the end, from what I hear, they feel like they are much less personal. I think that the fact that Arcadia Gardens is family owned and run makes a huge difference in how the residents are cared for. They are treated more like family than clients. I cannot recommend Arcadia Gardens more highly."

— Tina Nieves, Daughter of Marvelyne Bailer and niece of June Matthews.
""I couldn't be happier with Arcadia Gardens. My 96-year-old Mother, Pauline, is in Memory Lane. I visit her every day. The staff is so kind and gentle with her. She loves participating in the music program and enjoys the hand massages! They really understand my mother; they give her coloring pages that she spends hours on. She's a former pre-school teacher and arts and crafts counselor. Before we moved her here, we visited several other facilities. I'm so glad we chose Arcadia Gardens. It's the people who work here that make all the difference."

— E.F.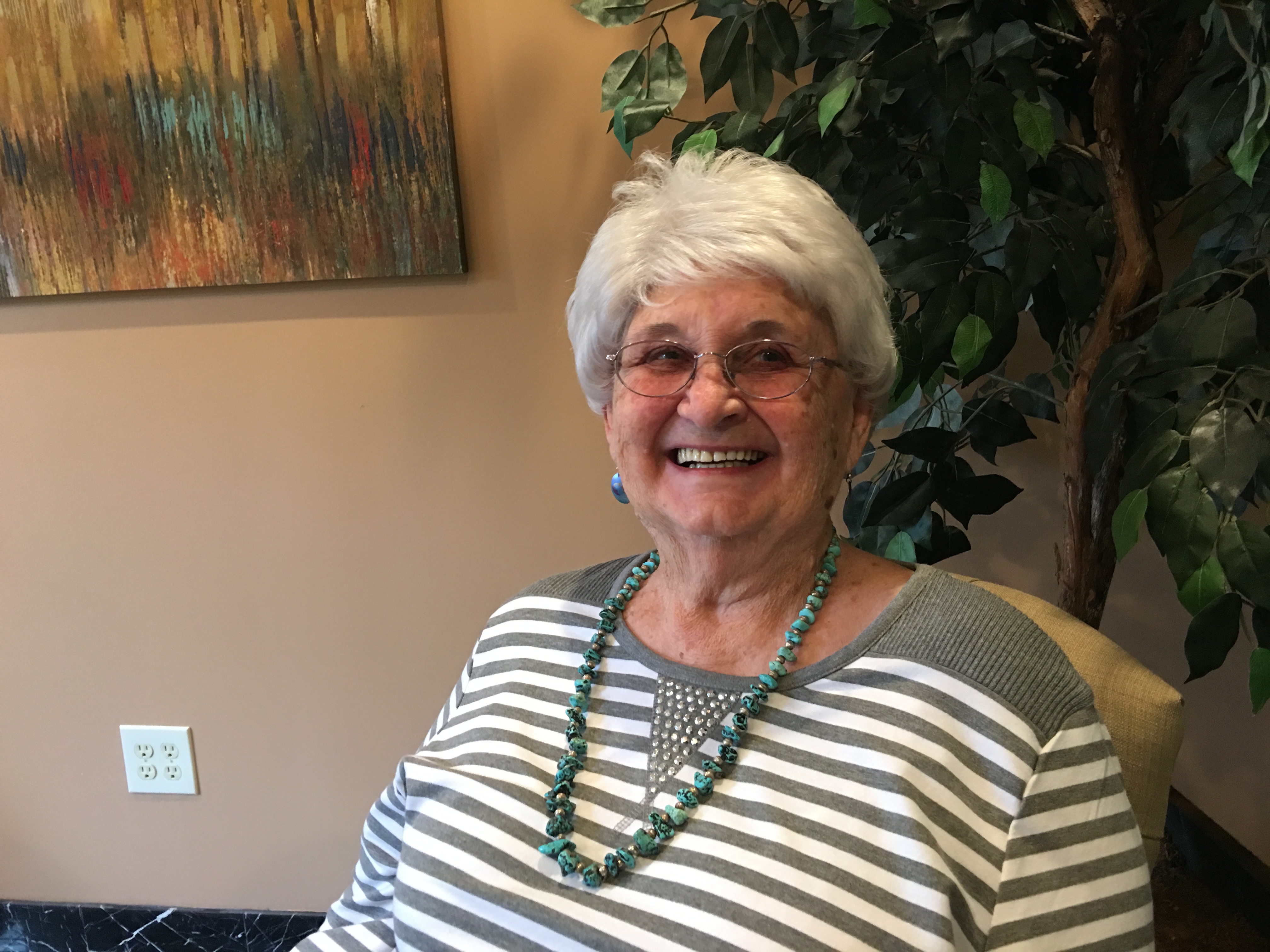 "I've been at Arcadia Gardens about 4 years. Many years ago, I had a friend who wanted to sell her condo. I drove her from Temple City to Santa Barbara to Riverside. We looked at all of the senior living places. Out of all the places we looked, we liked Arcadia Gardens the best.
A few years later I had a seizure and was hospitalized. I told my daughter, 'Why don't we look at Arcadia Gardens?' You have all your meals, all your housekeeping. Everything has gone beautifully. I would recommend it highly."

— Darlene McCormick
"There is so much to do at Arcadia Gardens!"
Alfredo and Betty Sipert have always been active. "I was so worried when we moved into Arcadia Gardens that I wouldn't have much to do," Betty says, "but, after living here for a year, we find that there are so many activities to choose from we can't take them all in! Rick's art classes are my favorite; I love to paint."
Alfredo chose their room because it has a fireplace. Betty liked the kitchen. Although she doesn't cook her German dishes anymore, she says chef Nathan makes a good baked chicken and accommodates special requests. "We also appreciate the live music that is part of the evening meal. The holidays are special here. They do an amazing job decorating and celebrating every holiday; they pay attention to detail."

— Alfredo and Betty Sipert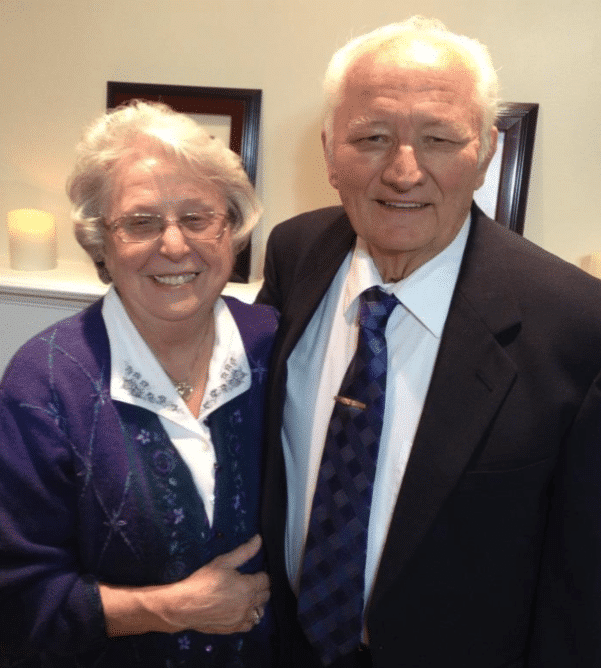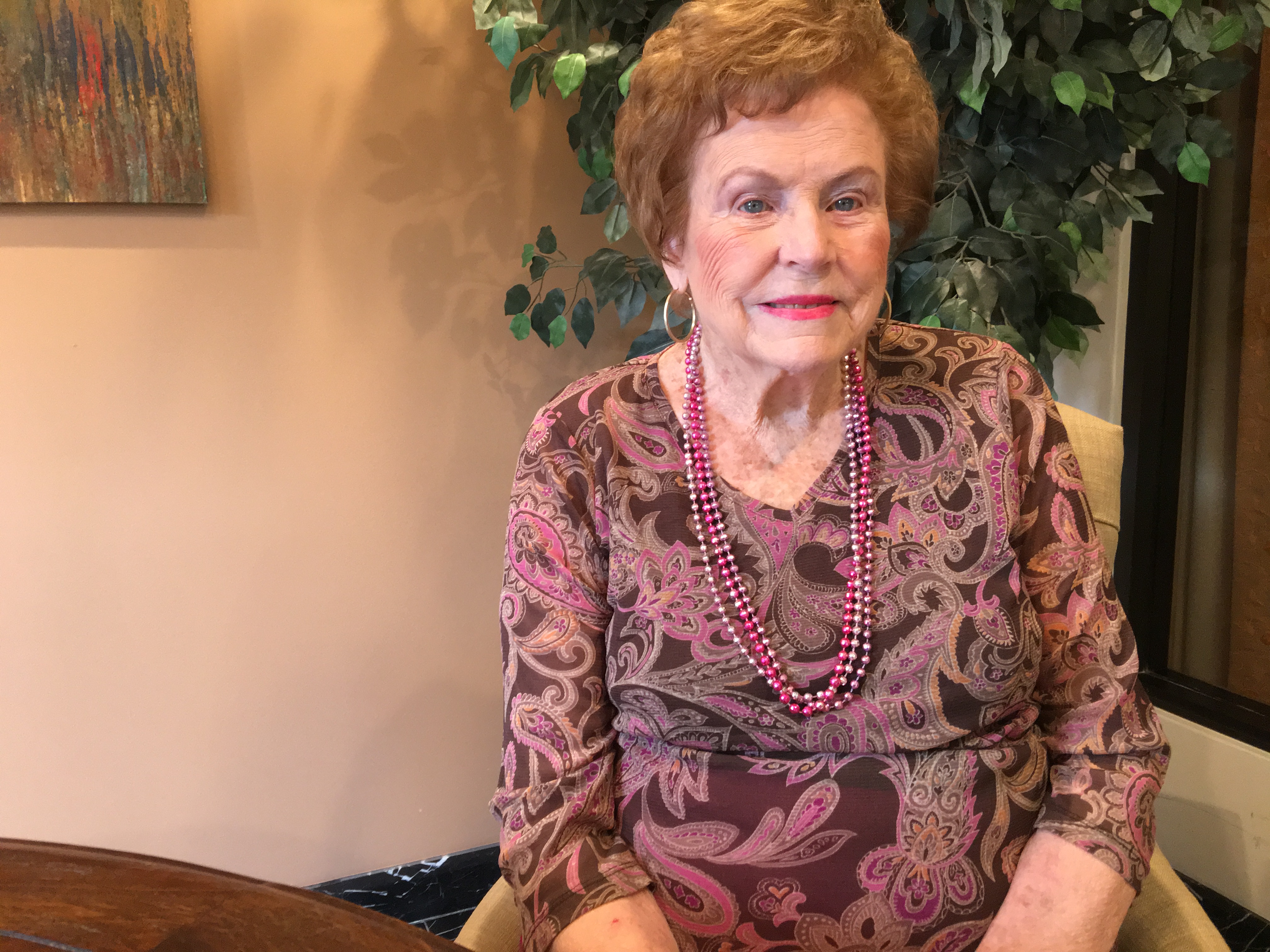 "I came to live at Arcadia Gardens 14½ years ago because I didn't like living alone; I was lonely. I did the exercise for 8 years. I play bingo every day and I attend most of the social activities. I eat 3 meals a day, I'm happy and I'm healthy!"


— Alta Ann Dumas

"I was born in 1920 in Shanghai, China, and speak several different dialects. I've lived at Arcadia Gardens for 10½ years. I like it very much. I used to be quite active and play bingo and participate in the music. Now, I like to work on my iPad; I play games and communicate with my children and friends. They take very good care of us at Arcadia Gardens."
— Carolyn Feng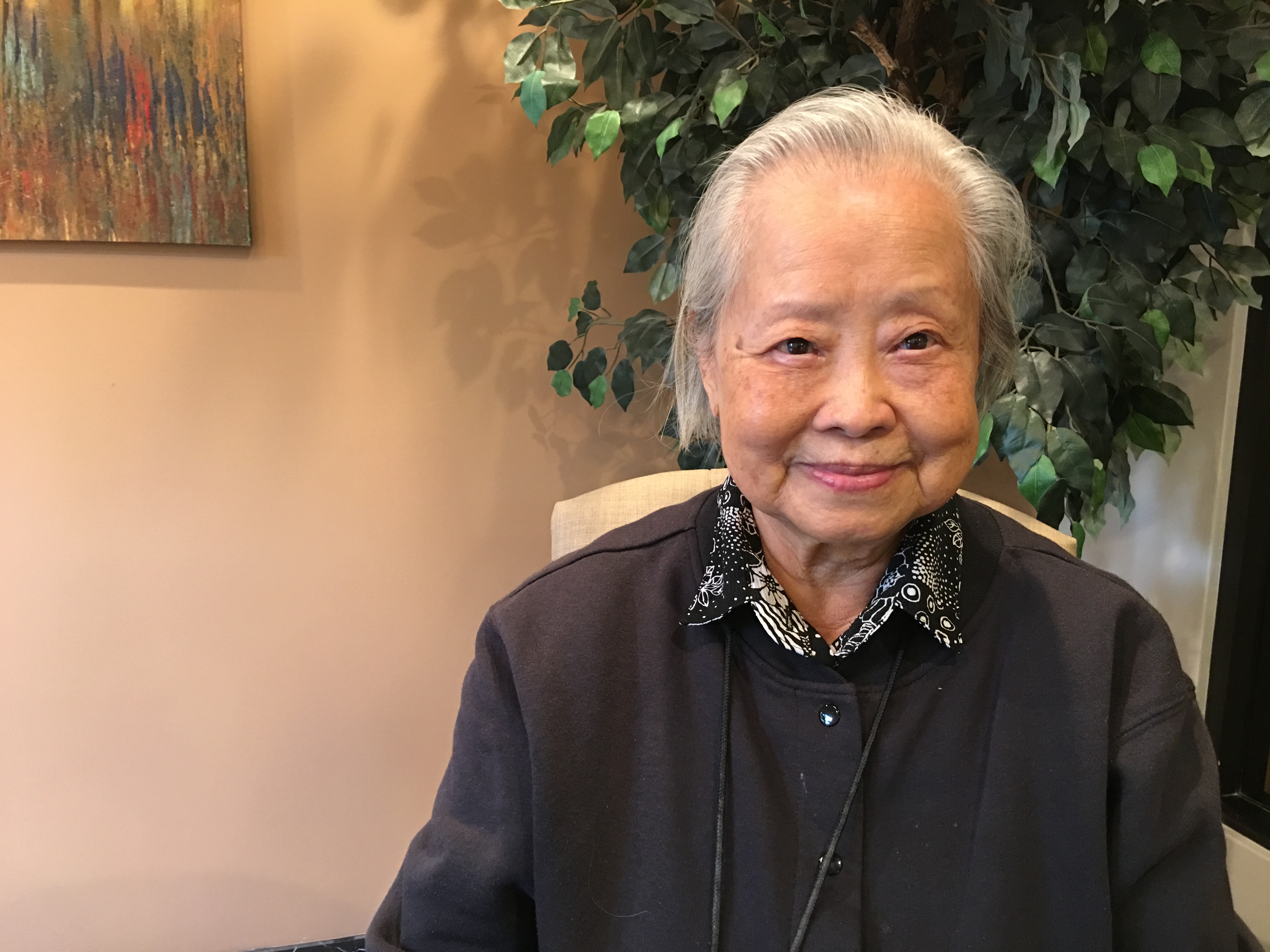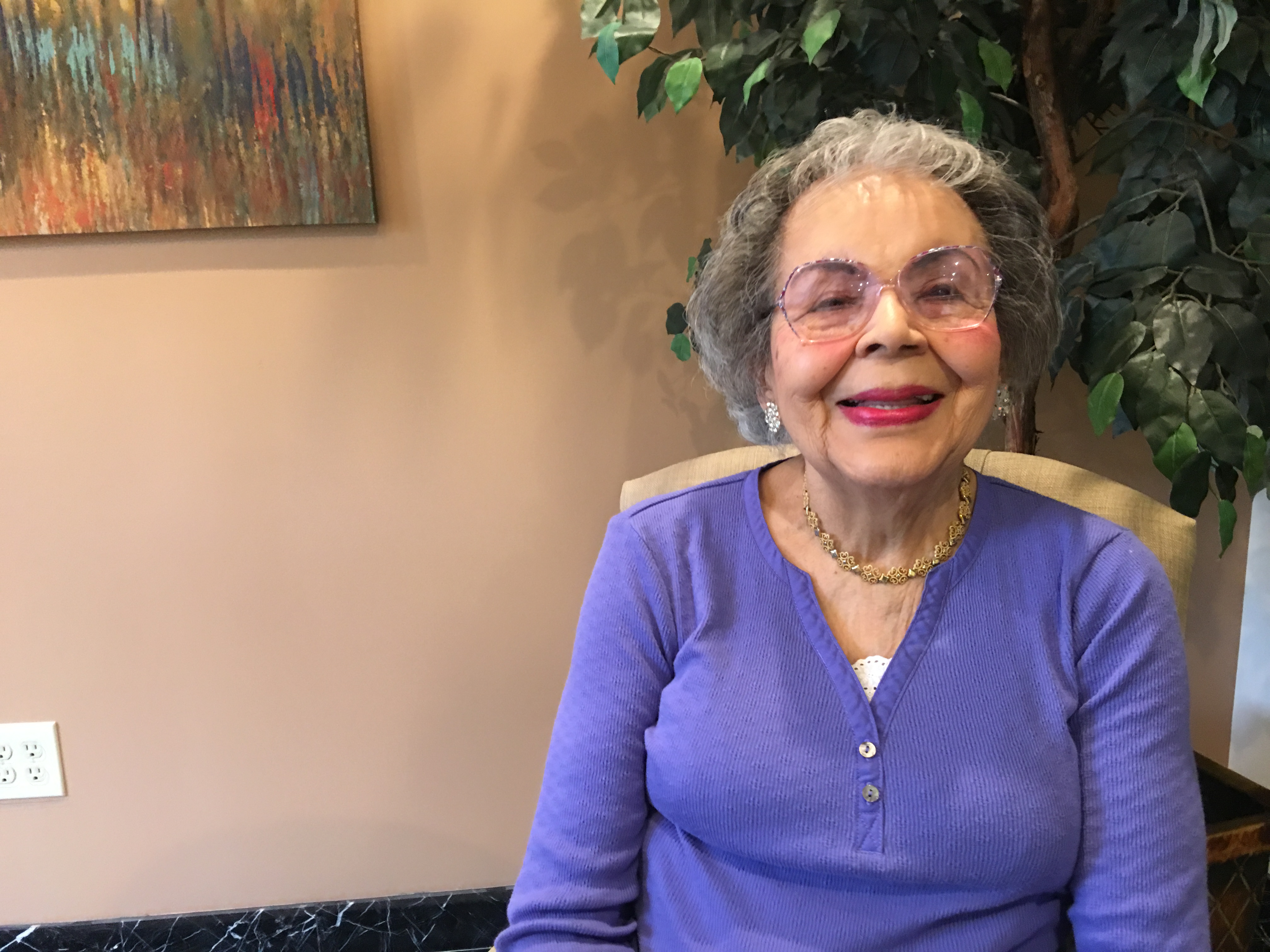 "There are so many things I like about Arcadia Gardens. They have a lot of activities to choose from. I like the music. Rick plays a very good guitar! We have sing-alongs. The songs bring back a lot of memories. My favorite song is "Yesterday" and there are so many songs that remind me of my husband, like "Begin the Beguine."
They have a variety of very good food. I like the taquitos, and I really like the pork because they slice it really thin."
— Connie Pineira
"I've lived at Arcadia Gardens for the last 9 years. What I like about the Gardens is they have something for everyone. They do a great job in our dining room; they have a wonderful chef. Arcadia Gardens gives me a ride every Wednesday to my bowling activity, which is my main hobby. I like the bingo and the bunco, and volunteer to help out during the games. I like to be helpful. Before I came here, I was always a volunteer. I volunteered for the City of Hope for 25 years!"
— Clara Colasuonno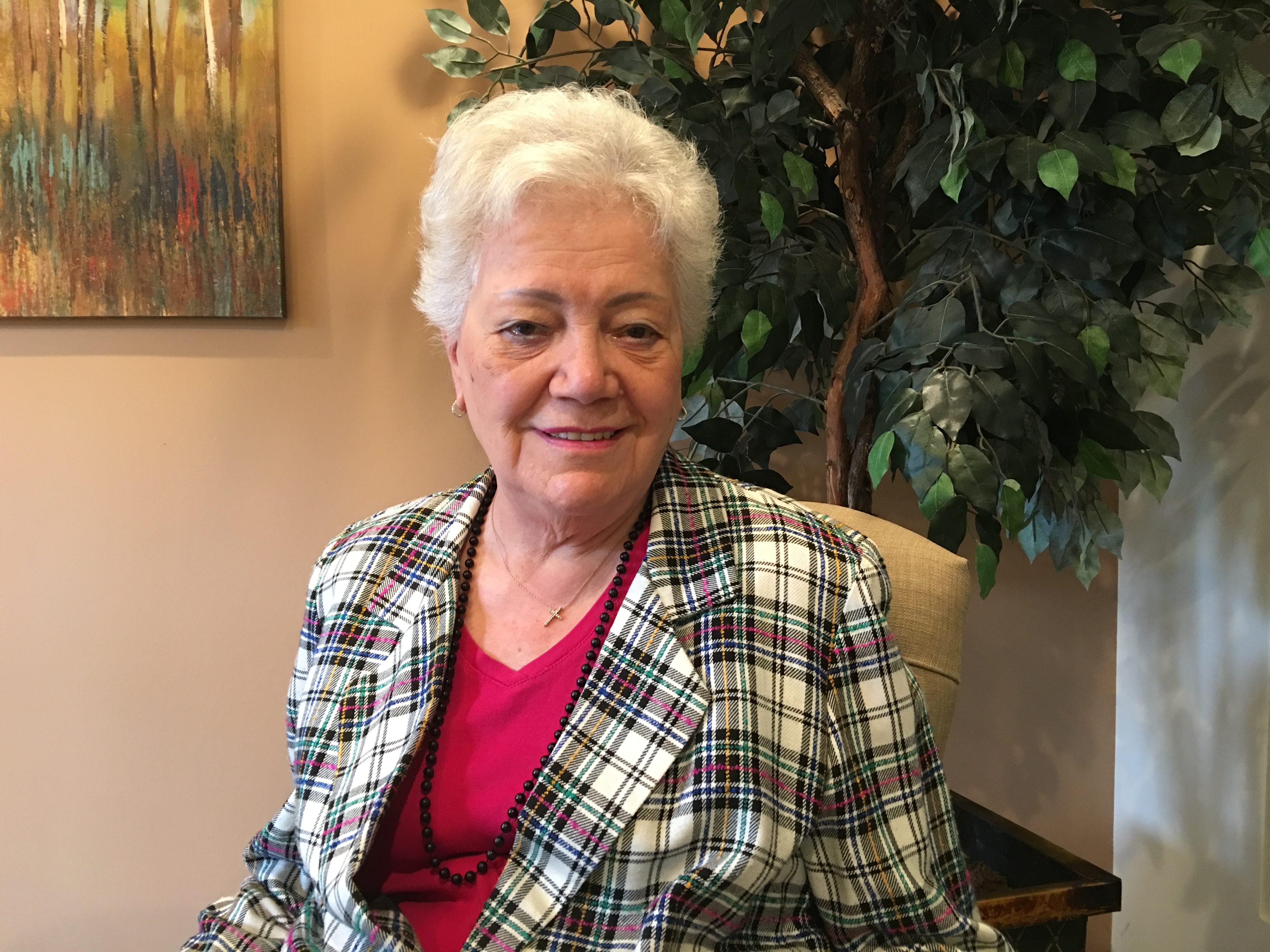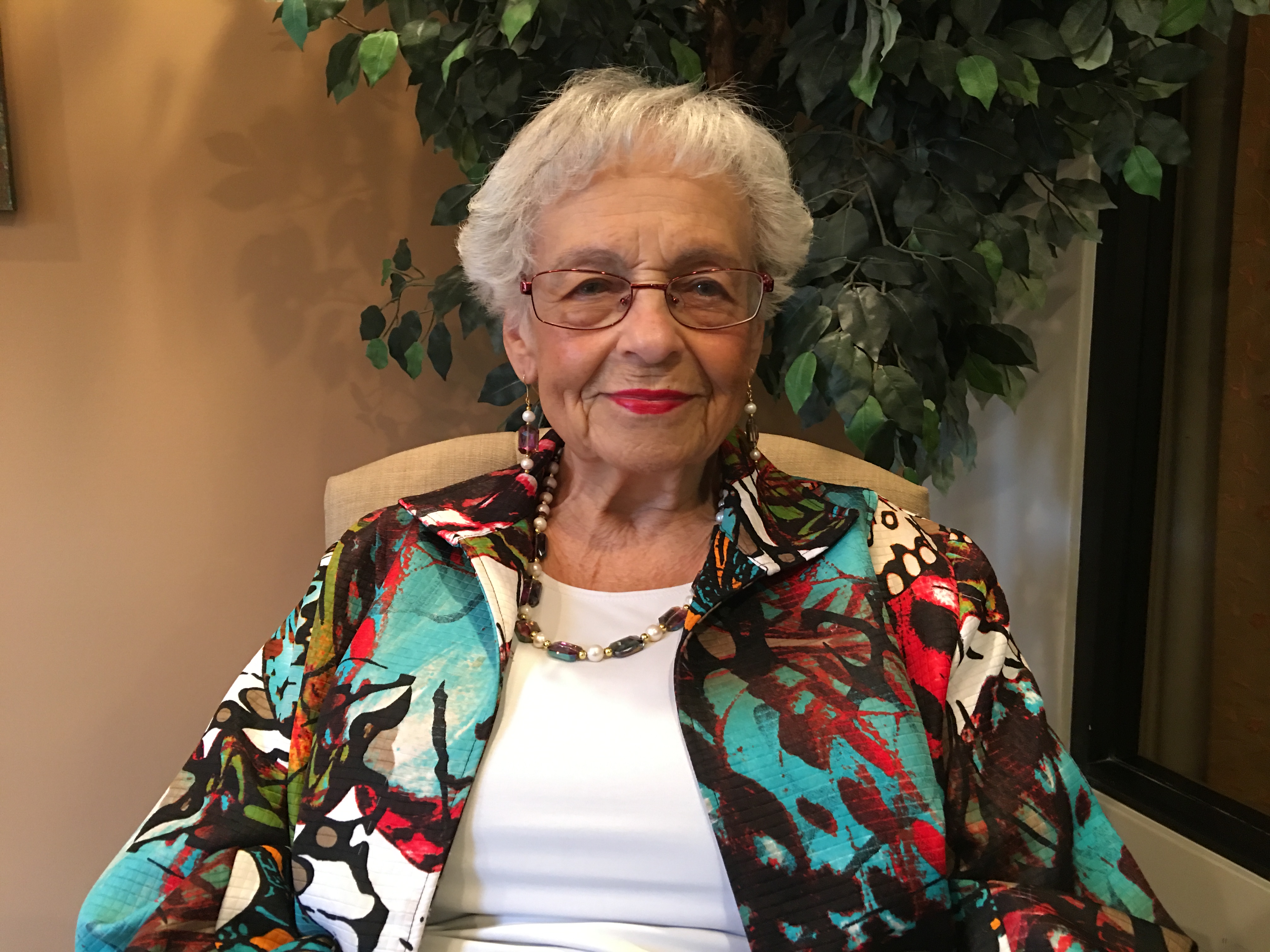 "I was born in L.A. and I will be 100 in June! I love California. I have 6 children, 14 grandchildren, and 19 great-grandchildren. I was a stenographer for the Los Angeles Police Department. I've had an interesting life. One of the nicest parts of my life is being here in Arcadia. The people are lovely. I play bingo and bunco, and I love the concerts they have at Arcadia Gardens with Rick. I try to participate in most of the activities. Everyone is so nice here, and I love David and Julie. All the people they have working for them are really nice. I really like it here."
— Marvelyn Bailer